ALL MAKES & MODELS OF LAWNMOWERS & SMALL ENGINE REPAIRS
SMALL ENGINE MOBILE MECHANICS WEST MELBOURNE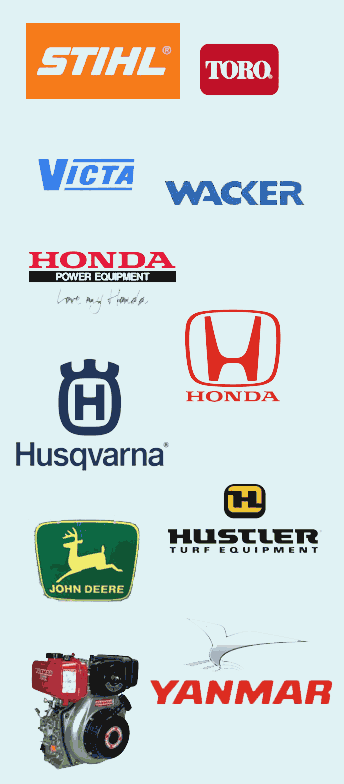 Allfixt Mobile Mechanics are an Australian automotive service company based in West Melbourne. We specialise in mobile mechanical repairs and servicing of all types, makes and models of lawnmowers and small engines.
Since 1995 we are servicing Melbourne's western suburbs for quality workmanship and parts supplier for a range of engine repairs. Allfixt become a well-recognised brand for fixing almost everything what has an engine in it. Well trained people means no compromise for quality and costs. We do repairs as cheap as possible so you can count on reliable service and friendly support if you wish to fix the problem yourself. In our range we do offer total rebuild of engines, of 2 stroke Husqvarna, Stihl, Makita, Wacker and 4 stroke Honda, Yanmar, Kubota,Honda and others with petrol or diesel fuelled engines plus many other brands of 2 or 4 stroke either petrol or diesel. We are familiar with all combustion engines. Do not wait to contact us.
Need a part – give us a call- whatever you need we will move earth to get you what you need. Need a service- we will come to you- no hustle no worries.
Hustler, Toro, Victa, John Deer, Honda, Stihl, Husqvarna, Yanmar and many more. Affordable and reliable – all works done by us are performed by qualified technician with relevant training on equipment you going to fix. From hedge trimmers to high sophisticated equipment and mowers plus engine repairs of well-known brands such as Honda, Briggs & Stratton, Yanmar, Makita, Wacker, Robin, Subaru, john deer.
As we aim to deliver 100% of your satisfaction and value for money, we offer a wide range of mower service and maintenance for domestic and industrial zero- turn mowers and all push- on and ride-on ones.
We are familiar with most mowers on the Australian market and we can assure you that the brands we support will be in professional hands. We also give warranty on our job as we have applicable training for Hustler gear from small domestic Fast Trak to golf course mowers Super- Z.
As part of our service we can answer your question on- line and offer tech support on parts for all your machinery needs. From engine overhaul to pull start repairs- we are here to help you to have it all fixed.
We also do earth compaction equipment including Wacker, Flextool, Crommelins, Dynapack, Robin (subaru) machines such as hi and low frequency flex vibrators, flex pumps and portable screeders. Tools for concrete cutting and scarring- this is us at AllFixt.Com.AU. Many more machines not included are also serviceable by us- just fill up the on line enquiry form or contact us and we will be more than happy to help you.
ALLFIXT- on time every time
Allfixt Mobile Mechanics are based in West Melbourne and service our valued clients throughout the western suburbs of Melbourne, especially West Melbourne, Melton, Sunshine, Essendon, Footscray and Caroline Springs. We provide mobile mechanic services for small engines and all makes of lawnmowers.
Allfixt Mobile Mechanics aim to deliver 100% customer satisfaction. We actually do fix things- not only parts replacement - to save your time and money. We are able to fix most of the small gear within 3 hours (depending on parts availability).
We have 12 years experience in automotive industry from Europe as well as Australia on a great range of engines. We have well trained mechanics to meet your requirements regarding on-site service and workshop facilities.